Past exhibition
16.02 - 01.05.22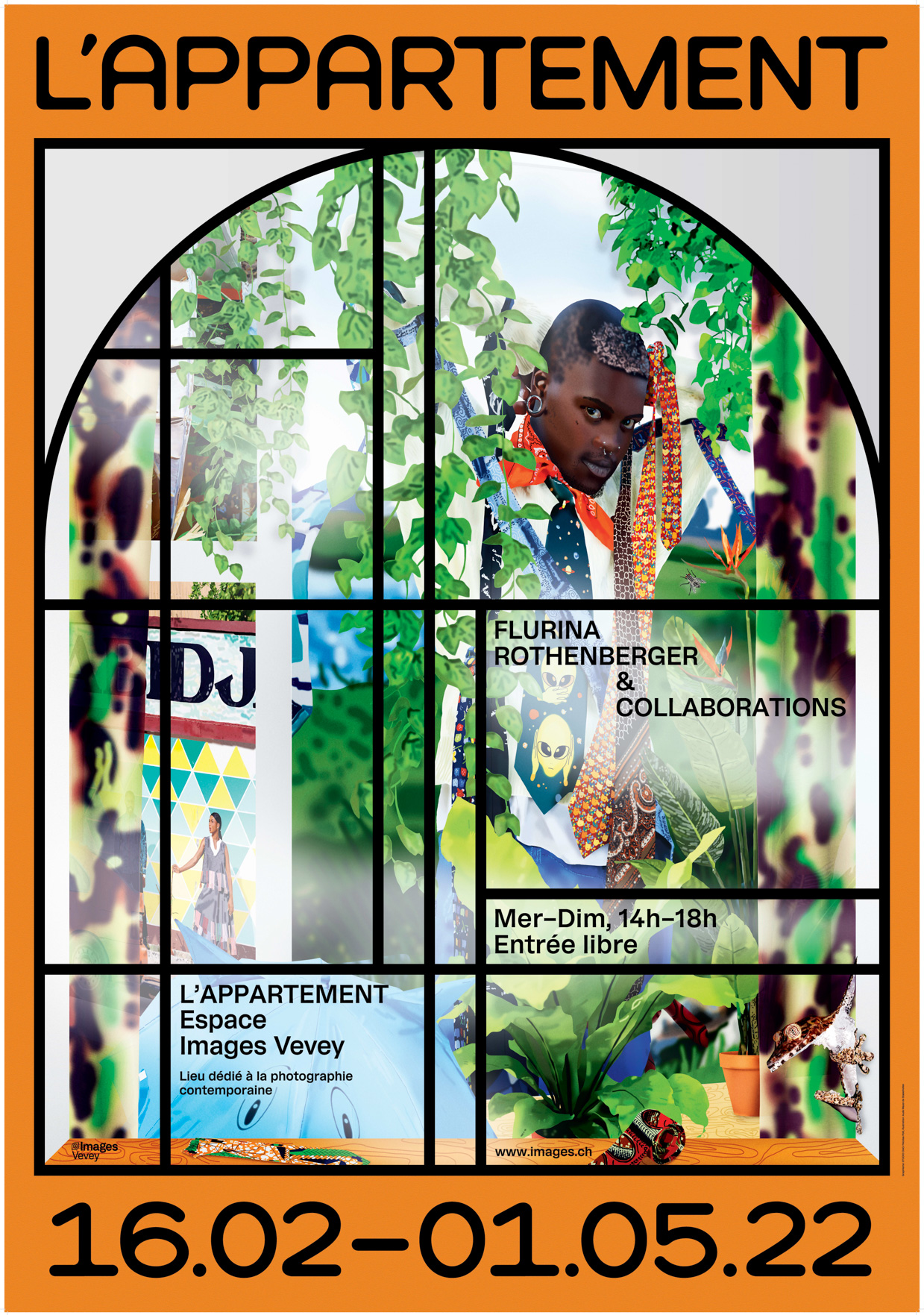 L'Appartement has given free rein to photographer Flurina Rothenberger. Born in Switzerland and raised in Ivory Coast, she has devoted most of her career to taking photographs of the continent where she grew up. Her personal narrative and cooperative artistic practice demonstrate Africa's multiple reality. She has taken over every room, while respecting their specific uses, to exhibit a series of projects in which collaboration is key.
LES CHAMBRES
NICE & UNFOLDED
A magazine can be a public space, a gallery, and an academy, all in one. NICE elicits this diverse potential unique to editorials. Flurina Rothenberger and Rahel Arnold gave the impetus for each of its three issues, bringing creatives together to combine their photography, journalism, visual design and social action as an editorial collective. This collaborative approach typifies Rothenberger's entire artistic practice. Her photographs, taken in Ivory Coast and South Africa, form a visual essay. Monika Schori's spatial intervention transforms our gaze, depending on where we position ourselves as viewers.
LE SALON
PATHÉ'O
Pathé'Os is a large-scale editorial project tracing the history of fashion and the textile industry in West Africa through the biography of Pathé'O, an Ivorian Burkinabe fashion designer and couturier. The exhibition preludes a book to be published in 2022 by Edition Patrick Frey and presents the work of Flurina Rothenberger in dialogue with archival images by the Burkinabe photographer and journalist Ben Idriss Zoungrana.
LE CINEMA
N'ZASSA
Ivory Coast is a major world player in slam poetry. Under the guidance of Flurina Rothenberger and the Ivorian poet Bee Joe, CEPV photography students worked remotely in tandem with slammers in Abidjan to create visual poems. As they swapped words and images, their creative disciplines merged to hatch a series of raw rhythmic videos.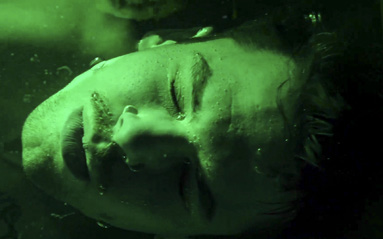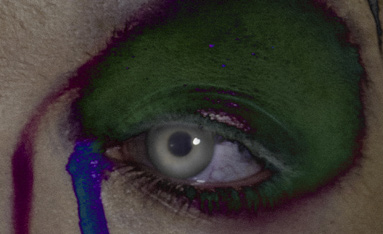 LE COULOIR
A BRIDGE IS NOT SOMETHING TO LOOK AT. YOU WALK ACROSS IT TO FEEL IT.
Four children aged between five and ten years old took on the role of curators to collectively choose a series of Flurina Rothenberger's photographs taken throughout Africa. A display designed especially for children showcases their selection of fourteen images together with their explanations for their choices.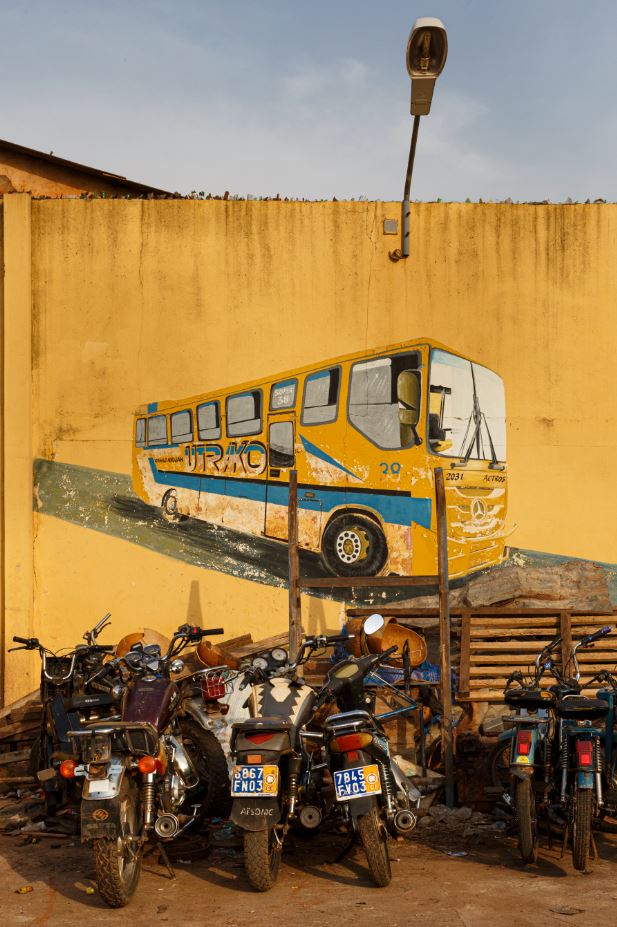 Read more
Close
14.12.21 - 30.01.22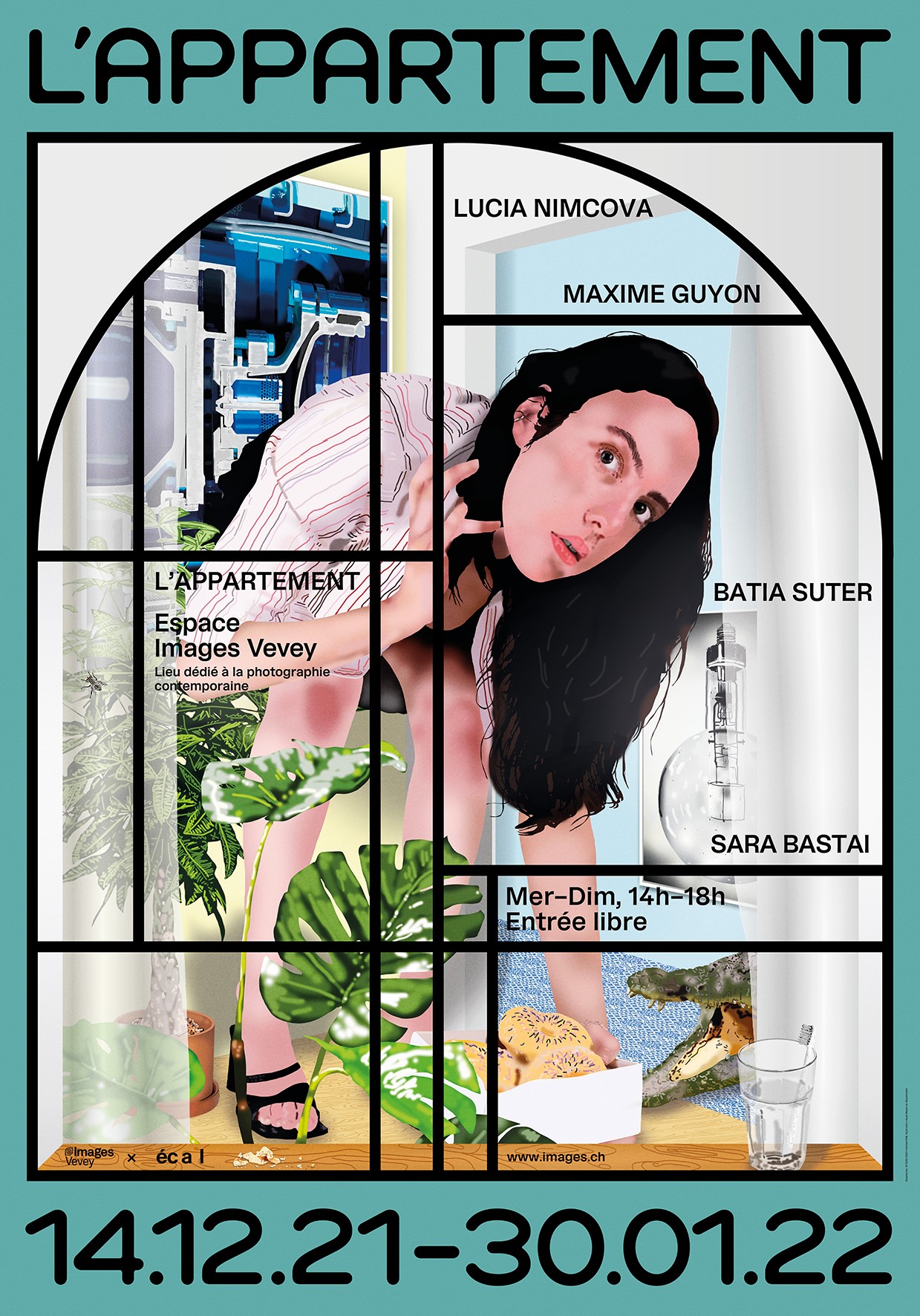 LES CHAMBRES
Sara Bastai (Portugal)
RAM_2.0, 2021
To keep pace with contemporary creation, Images Vevey has joined forces with ECAL/Ecole cantonale d'art de Lausanne, to launch Images Vevey x ECAL, a new prize offering a first solo exhibition to a student completing his/her studies in photography. The first ever Images Vevey x ECAL prize has been awarded to Sara Bastai for her RAM_2.0 project involving artificial intelligence. The artist ran the hundreds of photos in her smartphone through an algorithm, which analysed the images and described what it observed. She then photographed new scenarios based on the generated captions. This created a dialogue between the artist and the machine, exploring the notion of memory through the eyes of technology.
Photography Master diploma project at the ECAL/Ecole cantonale d'art de Lausanne
LE SALON
Maxime Guyon (France)
Aircraft: The New Anatomy, 2020
From 2017 to 2020, Maxime Guyon explored the most significant aviation factories and met numerous protagonists of this impressive sector of the economy. His keen eye for detail and aesthetics is apparent in his series of photographs questioning the fascinating evolution of the aeronautical industry and the rat race for technological performance. The book entitled Aircraft: The New Anatomy published by Lars Müller in Zurich, presents a collation of his work. Complemented with an essay by Nicolas Nova, a Swiss-French researcher and anthropologist, these images serve as an evolving metaphor and launchpad for a broader reflection on human-made artefacts and the ambivalent link between nature and technology.
Published by Lars Müller Publishers
22 x 28 cm, 126 pages, 70 illustrations
LE COULOIR
Lucia Nimcova (SK)
Animal Imago, 2013
When artist Lucia Nimcova goes on a trip, she has a penchant for photographing the animals she notices on her excursions. Sending these images of urban creatures as postcards to friends and family initiates a reflection on communication. How do we, as city creatures of the 21st century, compare to other animals? What can we learn if we really try to listen to them, collaborate with them or put ourselves in their place? Can we understand one another? This tamed, humanised fauna farcically questions our status as a "superior" species. Fifteen of the artist's street photographs have been collated in a display specifically designed for children.
LE CINEMA
Batia Suter (CH)
Radial Grammar (3D re-edit), 2021
Batia Suter has been collecting books and magazines for over twenty years. Most of them are second-hand and include scientific papers, glossaries, promotional catalogues, art and history books, periodicals on the animal kingdom, and much more. These pages provide the raw material for her artistic practice, whereby she extracts, decontextualises, and correlates images to reveal them in a new light. Her extensive project Radial Grammar is showcased in an exhibition, a book, and a video. This visual montage evokes a bookshop packed with treasures and encyclopaedias. In L'Appartement, the projection evokes the giant sphere of the Chiesa Madre in the town of Gibellina, Italy. Suter designed this slide show for a monumental videomapping as part of the for the bienniale Images Gibellina 2021. The fluidity takes us on a mysterious visual journey through iconography, the formal and narrative characteristics of images.
Read more
Close
13.10.21 - 28.11.21
LES CHAMBRES
The rooms of L'Appartement – Espace Images Vevey are intended to host a monographic exhibition.
Nicolas Polli (Switzerland)
When Strawberries Will Grow on Trees, I Will Kiss U
During three months of confinement in the spring of 2020, Nicolas Polli went through a period of profound solitude and uncertainty. He then drew on his artistic resources to stage this fragility that he had never felt so strongly. Confronting his enclosure, he frantically began to compose still life and images from everyday objects. His imagination challenges his doubts and desires. In his depopulated apartment, he gives meaning to banality. His own body also becomes the object of new attention: vulnerable, it demands a fantasized presence. Sensitivity is mixed with sensuality when Polli addresses short poems to an unknown, idealized and eroticized figure. Finally, his series When Strawberries Will Grow on Trees, I Will Kiss U paints a sincere and delicate portrait of a universal loneliness.
LE COULOIR
Le Couloir de L'Appartement – Espace Images Vevey is a space dedicated to children.
Nicolas Polli (Switzerland)
À table avec Nico !
When artist Nicolas Polli photographs the disturbing still lifes he creates in his home, magic happens: courgettes do the balancing act, a few twisted spoons become characters, loaves of bread serve as slippers and cutlery seem to levitate. Fifteen jubilant images are brought together in a playful display, specially designed to inspire children at the heart of L'Appartement – Espace Images Vevey.
LE CINEMA
The Cinéma de L'Appartement – Espace Images Vevey is a space dedicated to the projection of an artist's video.
Marie Noury (France)
Nous voir ensemble
How many stories can be created by a seemingly insignificant photograph presented to different members of the same family and their relatives? By compiling fragments of vernacular images, Marie Noury conducts a videographic investigation where words, expressions and gestures interact around this mysterious photograph taken from her family archive. Memories vary like interpretations. Between reveries and revelations, Nous voir ensemble questions with tenderness the power of the photographic image, of words and of emotional memory.
Diploma project Photography Bachelor at ECAL/Ecole cantonale d'art de Lausanne
LE SALON
The Salon de L'Appartement – Espace Images Vevey is a space dedicated to the presentation of an artist's book.
Peter Puklus (Hungary)
The Hero Mother – How to Build a House
Edition Witty Books / Images Vevey
In this 2017/2018 Grand Prix Images Vevey winning series, Peter Puklus deconstructs the dynamics of pre-established female and male roles: motherhood as a presumed heroic activity and the father's assumed duty to build and protect the home. Premiered internationally at the 2018 edition of the Festival Images Vevey with an immersive installation, the project continues today as an artist's book co-published by Witty Books and Images Vevey. By deploying an extraordinary visual and pictorial vocabulary around his own family unit, Puklus breaks down the symbols traditionally associated with maternal and paternal figures. Throughout the pages, he shares with the reader his doubts, his states of mind and his vulnerability.
Read more
Close
11.09.21 - 3.10.21
Icons by Cortis & Sonderegger
At a time when digital technology enables all kinds of gimmicks, Jojakim Cortis and Adrian Sonderegger create handmade models of famous photographs. They then capture the result by expanding the field of view, deliberately revealing their techniques and tools used in their Zurich studio: tubes of glue, cutters, paintbrushes, drills and lighting. Since 2012, the duo has reconstructed around forty historical photographs, such as Marilyn Monroe's billowing white dress, man's first steps on the moon, the terrible tsunami of 2005 and the Twin Towers in flames on 11 September 2001. The public is prompted to question the construction of these images, which have all become an integral part of collective memory. Cortis & Sonderegger see it all as a matter of perspective, as they remind us that a photograph never depicts everything, but rather a subjective view, a mere fragment of the world at a given time. This famous Icons series was presented on outdoor tarpaulins during the 2016 edition of Festival Images Vevey. This time, the original prints have been hung indoors.
Indoor exhibition at the Espace Images Vevey, hall of CFF railway station
Animals make the news!
A display designed especially for children.
L'illustré is a well-known magazine in the French-speaking part of Switzerland. It was created in 1921, so this year is its 100th birthday! This magazine comes out once a week, on Wednesdays. There are 52 weeks in a year, so that means there have already been 5201 issues! In the L'illustré magazine you can read reports on current events in Switzerland, news from around the world, articles on celebrity lifestyles and on political or social issues. L'illustré gets its name from the fact that it is full of photographs that illustrate the texts and journalists' interviews. The most important photograph in any magazine is the one on the cover. It is carefully chosen to make people want to read the magazine. This picture and its title give an idea of what you can find out about in the magazine. Sometimes animals make the front page! They can be photogenic celebrities too! This exhibition presents fifteen L'illustré front pages that featured animals. Some of them are from a very long time ago, before we had colour photographs, but others are more recent. An elephant at its birthday party, a puppy posing for the camera like a real supermodel, and a curious kangaroo are all waiting for you in the exhibition! Can you name all the animals?
Indoor exhibition at the Espace Images Vevey, hall of CFF railway station
Analepse by Noé Ciompi
In response to a joint invitation from L'illustré and Festival Images Vevey, Noé Ciompi selected around fifty visuals that appeared on the cover of L'illustré between 1921 and 2021. He then used various software and artificial intelligence to cut and restore the images and add digital animation. The resultant astonishing and immersive video montage Analepse juxtaposes 2D and 3D. In literature, an analepsis is a figure of speech used to flash back to an earlier point in the story. Here the audience is led to (re)visit the tragic, happy, pivotal, and trivial events of the past one hundred years. From technological advances that have since become obsolete to outdated social attitudes, the terror of the Second World War and the popularisation of leisure activities during the Trente Glorieuses post-war boom, these surprising moving images question the evolution of our view of historical facts as we evaluate them from our current perspective.
Indoor exhibition at the Espace Images Vevey, hall of CFF railway station
100 pour 100 by Lundi13
For L'illustré magazine's centenary, Lundi13 agency photographers Niels Ackermann, Fred Merz, Guillaume Perret, Nicolas Righetti and François Wavre were invited to produce ten jubilee 'photo portraits', each featuring ten famous French-speaking Swiss. Linked together by the same magazine, these 100 well-known faces from various walks of life make the history of Romandy as we know it. They met up – or met for the first time in some cases – at lively photoshoots, which proved a far cry from the sobriety and humility usually associated with Switzerland. Whoever said the Swiss-French didn't do glamour? The 100 pour 100 series has a Hollywood feel about it and features 'stars' well out of their comfort zone.
Outdoor exhibition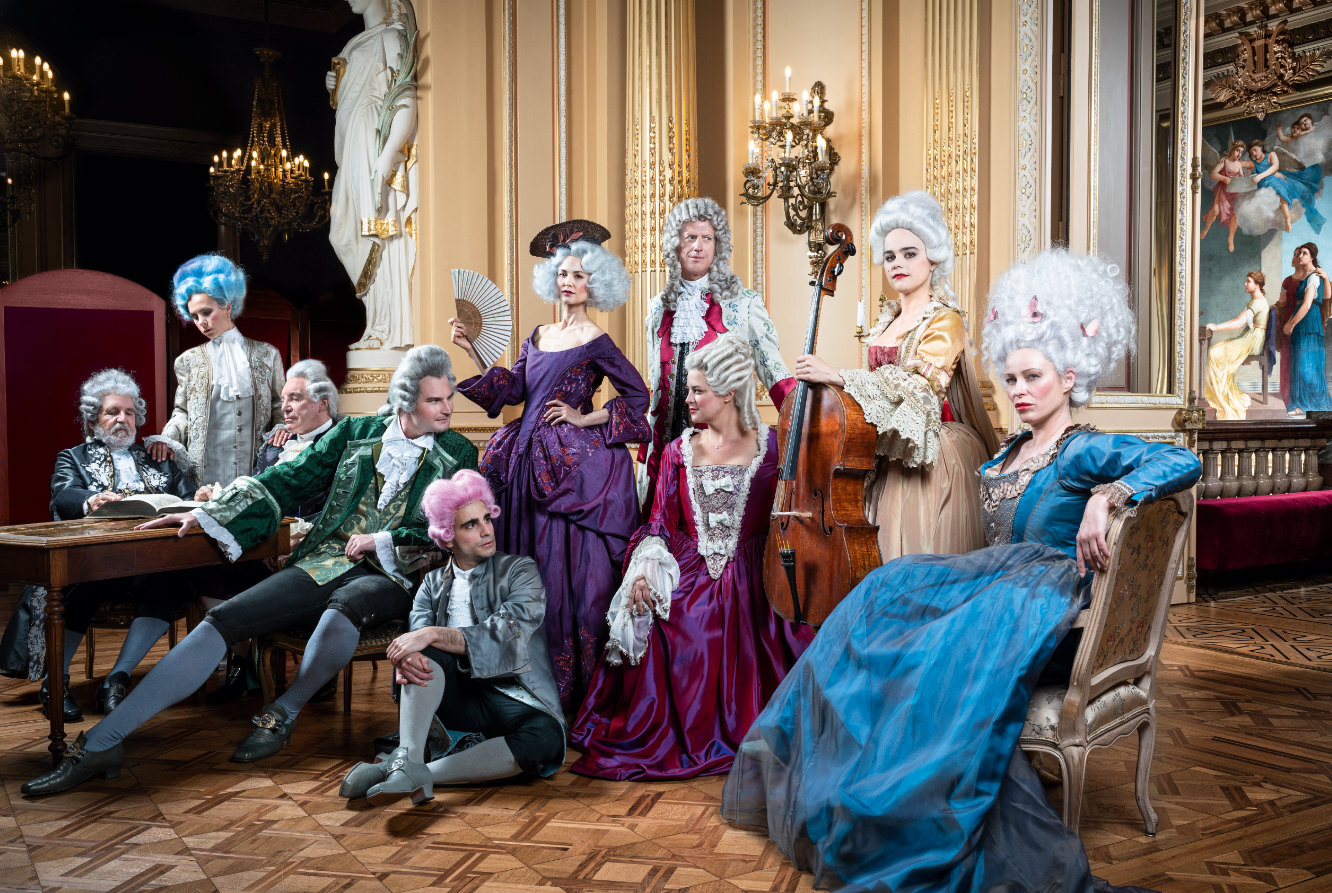 Le Grand Foyer by Nicolas Righetti. Lundi13
L'illustré at Images
Between 1921 and 2021, L'illustré magazine published 5201 covers. Images Vevey delved into this significant visual heritage to select over 130 striking covers, thereby tracing one hundred years of news. Presented in large format, this selection associates topics, shapes, and compositions or highlights surprising details to create a dialogue. Pictures can then rouse an entirely different amusing and offbeat interpretation. A century of images unfolds across the town of Vevey, featuring William Tell, Roger Federer, Queen Elizabeth II, technological innovations, winter sports, and fashionable animals. The exhibition thus highlights how this Swiss-French weekly's visual identity, graphic design and choice of topics has evolved over the years.
Outdoor exhibition
L'illustré, c'est vous by Julie de Tribolet, Blaise Kormann, Sedrik Nemeth
The celebration of L'illustré's centenary also commemorates its readers. The L'illustré c'est vous project collates 101 portraits of French-speaking Swiss born between 1921 and 2021. L'illustré is part of the national heritage of Swiss press and, while some have subscribed to it for ten, twenty or even fifty years, others flick through its pictures now and then when in a waiting room or relaxing on the family sofa. Its history spans generations. It is a story of loyalty and the steadfast bond between a magazine and an entire population. Julie de Tribolet and Blaise Kormann, two of L'illustré's photographers, joined up with writers Sedrik Nemeth and Caroline Zingg for a photo road trip. Over five weekends, they set up photo studios in each canton of French-speaking Switzerland to host models for a day. For the more elderly participants, they improvised photo studios in their homes, amid lots of tea, cakes and laughter. This series of portraits echoes the German artist Hans-Peter Feldmann's 100 Years series, which Festival Images presented in 2016. The flow of faces inevitably evokes the passing of time. It forms a long seamless lifespan revealing disturbing similarities between the expressions on a baby's face and those on a one-hundred-year-old woman. Each model's personality comes to light, as does the sheer pleasure of camaraderie.
Outdoor exhibition

Eliz, 2019
Read more
Close