Archive
Jury of the edition 2021/2022
Teju Cole, photographer, curator and writer (US/NG) chairs the jury of the Grand Prix Images Vevey and the Prix du Livre Images Vevey composed of:
Federica Angelucci, Director, Stevenson Gallery, Cape Town – ZA
Milena Carstens, Director of Photography, ZEITmagazin, Berlin – DE
Julien Guerrier, Publications Director,  Louis Vuitton, Paris – FR
Shoair Mavlian,  Director, Photoworks,  London – UK
The sanitary conditions in spring 2021 due to Covid19 did not allow the jury to meet in Vevey. The selection of the winners was made exceptionally by videoconference.

From left to right, top:  Teju Cole, Raphaël Biollay & Stefano Stoll, Federica Angelucci
From left to right, below: Julien Guerrier, Milena Carstens, Shoair Mavlian
Laureates of the edition 2021/2022
Grand Prix Images Vevey
Lebohang Kganye – ZA
Staging Memories
Images Vevey Book Award
Carmen Winant – USA
 Arrangements
_
Images Vevey Special Jury Prize 
Alba Zari – IT
Occult
Broncolor Prize – Light
Stefanie Moshammer – AT
Her Sweet Poison
Mention Reportage Images Vevey
Juan Brenner  – GT
Marvelous Phenomena
Special Jury Prize for the Images Vevey Book Award
Paola Jimenez – PE
Rules for Fighting (Reglas para pelear)
Jury of the edition 2019/2020
Dayanita Singh, Artist (IN) of international renown chairs the jury of the Grand Prix Images Vevey and the Prix du Livre Images Vevey composed of :
Emma Bowkett, Director of Photography, Financial Times FT Weekend Magazine, London (UK)
Lesley A. Martin, Creative Director, Aperture Foundation, New York (US)
Christoph Wiesner, Artistic Director, Paris Photo, Paris (FR)
Francesco Zanot, Independent Exhibition Curator, Milan (IT)

© Rebecca Bowring
From right to left, up:  Lesley A. Martin, Raphaël Biollay, Stefano Stoll
From right to left, down: Francesco Zanot, Christoph Wiesner, Dayanita Singh, Emma Bowkett
Laureates of the edition 2019/2020
Kristine Potter (United States)
Dark Waters
The jury commented upon its decision thus:
"The jury was deeply impressed by Dark Waters, Kristine Potter's meditation on the violence embedded in the landscape and popular culture of the American South. In particular, the jury members considered the work's gothic, literary approach to the tradition of American murder ballads to be notable for its ability to turn a classic photographic subject—the American landscape—on its head. The work excavates a hidden history of death and violence against women. Potter takes note of the descriptions of beatings and killings plainly stated in the lyrics of traditional Appalachian and Blues songs. She also locates this past by photographing at sites with names like Murder Creek, Bloody River, and Rape Pond. Potter proposes to combine video and music with traditional, large-format black-and-white photographs, including landscapes and a series of haunting, staged portraits inspired by the female subjects of the lyrics. The work powerfully confronts the violence inherent in these sites and lyrics, as well as the male-dominated history of American landscape photography.
The jury unanimously looks forward to the expansion of Kristine Potter's already robust practice and her reexamination of these dark mythologies. While her proposal is grounded in a specific, historical tradition and locales, the jury felt that the implications are universally applicable to the gendered, violent messages that often go unexamined in contemporary popular culture."
Kristine Potter

Based in Nashville, Tennessee, Kristine Potter (1977) studied photography at the University of Georgia and Yale University. Winner of the prestigious Guggenheim Fellowship in 2018, she has exhibited in numerous galleries and museums in the United States and Europe. Her work has been included in private and public collections such as the Georgia Museum of Art and has been published in journals such as Contact Sheet, Paper Journal and The British Journal of Photography. Her first monograph, "Manifest" was published by TBWBooks in 2018.
Grand Prix Images Vevey is a creation-support grant for photography projects. The award, worth some CHF 40,000 (approx. EUR 35,000), enables artists to develop an original project. The winner now has one year to complete the project which will premiere at the next Festival Images Vevey from 5 to 27 September 2020.
Watch the video of the jury commenting the winning project:
Grand Prix Images Vevey 2019/2020 by Festival Images on Vimeo.
Gloria Oyarzabal (Spain)
Woman Go No' Gree
The jury commented upon its decision thus:
" Gloria Oyarzabal's book proposal promises an engaging, visually exciting mix of her own images, a selection of archival material, and an extensive, research-based text. The project wrestles with the challenges of applying "universal" Western feminist ideas to cultures with entirely different traditions. The jury unanimously felt this exploration of feminism and of cultural and racial biases to be urgent to our time.
Gloria Oyarzabal

Gloria Oyarzabal (1971) trained and graduated with a Fine Arts degree from the Universidad Complutense de Madrid, where she currently lives and works. After having lived several years in Mali, the Spanish artist has since developed a research on the construction of the idea of Africa, the processes of colonization and decolonization, with a particular interest in African feminisms. Her work has been exhibited in numerous photography festivals such as FORMAT in Derby (UK), Fotofestiwal in Lodz (PL), LagosPhoto (NG) and Encontros da Imagem in Braga (PT).
Made possible by the Amis d'Images association, the Images Vevey Book Award supports the creation of a book project that showcases an optimal and original balance between publication format and photographic content with a CHF 10,000 (app. € 9,000) grant.
Watch the video of the jury commenting the winning project:
Images Vevey Book Award 2019/2020 by Festival Images on Vimeo.
Lei Lei (China)
Weekend
Born in 1985 in Nanchang (China) and based in Los Angeles and Beijing.
"The jury unanimously awarded a Special Jury Prize to Chinese artist Lei Lei for his ongoing video and collage project, Weekend. Based in Los Angeles, Lei Lei maintains a growing collection of images from second hand markets and vintage magazines such as China Pictorial. He isolates, selects, and assembles elements from these materials, questioning the difference between artwork and archive, memories and dreams. In the resulting collages, he creates a hybridized, personal history, in addition to animating them and creating a soundtrack for each."
Benoît Jeannet (Switzerland/Spain)
Escape from Paradise
Born in 1991 in Neuchâtel (Switzerland), where he currently lives and works.
"The jury is pleased to unanimously select Benoît Jeannet as the Broncolor Prize Light. His project, Escape from Paradise, is a study of Hawaiian myth and iconography. In the photographer's studio, the island becomes an observation laboratory—a microcosm of twentieth-century history. The plantations of the Dole Food Company; the history of the Hawaiian shirt; the invention of the atomic bomb, and the Internet boom are elements that have shaped our popular perception of the Island. Hawaïan images, inscribed in popular culture, function as the objects of watered-down propaganda. The jury appreciated Jeannet's studio-based approach to iconographic elements, allowing them to be represented as sculptural photographic objects."
Jack Latham (United Kingdom)
Beggar's Honey
Born in 1989 in Cardiff and currently based in Bristol.
"The jury unanimously wished to recognize Jack Latham as an exciting voice in contemporary documentary practice. This Heidi.news Prize – Reportage is an opportunity to launch a new project for this photographer, who uses methodical research as a foundation for his practice. Beggar's Honey, will examine the emergence of "Click Factories" that have popped up throughout Eastern Europe and Asia in secret warehouses in which thousands of phones are programmed to influence public opinion by aggregating "likes" and "comments". An issue considered to be a significant and very real part of the "fake news" crisis."
While waiting for this project to come to fruition, postponed due to covid-19, the laureate presented the first part of his work Beggar's Honey – Chapter I: Latent Bloom at the Festival Images Vevey 2020.
In addition to the organisation of its Grand Prix, Images Vevey joins forces with various partners to develop grants to support photographic creation. A jury of independent experts awards prizes for artistic projects conceived or presented during the Festival Images Vevey.
La Bourse Nestlé
The Bourse Nestlé is a real laboratory of ressources and aid to creation, bringing together the event-driven logic of a festival, the economic logic of a multinational and the artistic logic of the laureate. Awarded every two years to one of the photographers who submitted an application for the Grand Prix Images Vevey, it has been since 2008 a historical commitment of Nestlé, official partner of Images Vevey.
Winner of the 2019/2020 Bourse Nestlé : Ruches by Aladin Borioli
Trained in visual arts at the ECAL/Ecole cantonale d'arts de Lausanne and in anthropology at the Freie Universität Berlin, Aladin Borioli has been developing since 2014 a vast corpus of photographs, videos, sounds and ethnographic material. Between photography, architecture, anthropology and ethology, his long-term work subtly mixes artistic and scientific approaches. On the occasion of the Bourse Nestlé, Images Vevey and RVB Books published Ruches/Hives, a book presenting a new history of the hive through hundreds of archival documents. This fascinating visual glossary retraces the diversity of architectures invented by humans for bees over the period from 2400 B.C. to 1852, the date of the first patent application for the so-called "modern" hive.
Read more
Close
Jury of the edition 2017/2018
Christian Marclay, Artist (CH/US) of international renown chairs the jury of the Grand Prix Images Vevey and the Prix du Livre Images Vevey composed of:
Simon Baker, Senior Curator International Art (Photography), Tate Modern, London (UK)
Lars Boering, Managing Director, World Press Photo, Amsterdam (NL)
Darius Himes, International Head of Photographs, Christie's, New York (US)
Luce Lebart, Director of the Canadian Photography Institute of the National Gallery of Canada, Ottawa (FR/CA)

From right to left:  Simon Baker, Lars Boering, Christian Marclay, Darius Himes, Luce Lebart
Laureates of the edition 2017/2018
Jury of the edition 2015/2016
James Casebere, Artist (US) of international renown chairs the jury of the Grand Prix Images Vevey and the Prix du Livre Images Vevey composed of :
Julien Frydman, Head of Development, Fondation LUMA, Arles (FR)
Marta Gili, Director, Jeu de Paume, Paris (FR)
Kira Pollack, Director of Photography, TIME, New York (US)
Ramón Reverté, Editor-in-chief, Editorial RM, Mexico/Barcelona (MX/ES)


From right to left: Kira Pollack, Ramón Reverté, James Casebere, Marta Gili, Julien Frydman
Laureates of the edition 2015/2016
Jury of the edition 2013/2014
Bettina Rheims, Artist (FR) of international renown chairs the jury of the Grand Prix Images Vevey and the Prix du Livre Images Vevey composed of :
Florian Ebner, Curator, Folkwang Museum Essen (DE)
Yasmine Eid-Sabbagh & Rozenn Quéré, Laureates of the Grand Prix Images Vevey 2011/2012 (LB/DE & FR)
Erik Kessels, Exhibition Curator and Editor-in-chief at KesselsKramer, Amsterdam (NL)
Kathy Ryan, Director of Photography, New York Times Magazine, New York (US)

From right to left: Yasmine Eid-Sabbagh, Florian Ebner, Rozenn Quéré, Kathy Ryan, Bettina Rheims, Rozenn Quéré, Erik Kessels
Laureates of the edition 2013/2014
Jury of the edition 2011/2012
Andres Serrano, Artist (US) of international renown chairs the jury of the Grand Prix Images Vevey and the Prix du Livre Images Vevey composed of:
Clément Chéroux, Curator for Photography, Centre Pompidou – Musée national d'art moderne, Paris (FR)
Marloes Krijnen, Director, FOAM Fotografiemuseum, Amsterdam (NL)
Christian Lutz, Laureate of the Grand Prix Images Vevey 2009/2010 (CH)
James Reid, Director of Photography, Wallpaper magazine, London (UK)
Laureates of the edition 2011/2012
Jury of the edition 2009/2010
Malick Sidibé, artist (ML) of international renown chairs the jury of the Grand Prix Images Vevey and the Prix du Livre Images Vevey composed of:
Todd Brandow, Director, Foundation for the Exhibition of Photography, Minneapolis/Paris (US)
Monika Faber, Curator, Albertina Museum, Vienne (AT)
Geert Goiris, laureate of the Grand Prix Images Vevey 2007/2008 (BE)
Annette Kulenkampff, Director, Éditions Hatje Cantz, Stuttgart-Ostfildern (DE)
Stefano Stoll, Director, Images Vevey (CH)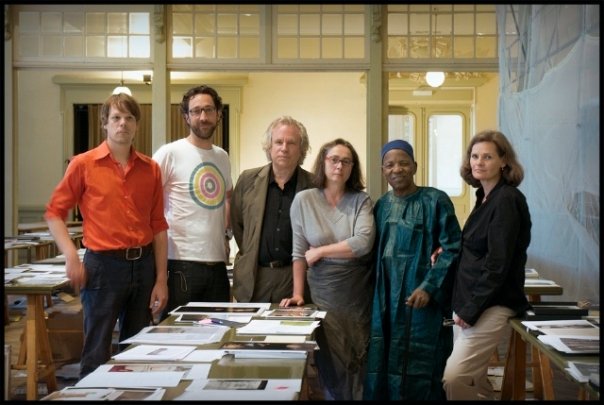 From right to left: Geert Goiris, Stefano Stoll, Todd Brandow, Monika Faber, Malick Sidibé, Annette Kulenkampff
Laureates of the edition 2009/2010
Jury of the edition 2007/2008
Balthasar Burkhard, Artist (CH) of international renown was honorary president and Gilles Mora, Art Critic and Exhibition Curator, former Artistic Director of Les Rencontres d'Arles (FR), president of the jury of the Grand Prix Images Vevey and the Images Vevey Book Award composed of:
Claude Baechtold, Laureate of the Grand Prix Images Vevey 2005/2006 (CH)
Jann Jenatsch, Director, Agence Keystone (CH)
Bernard Marcelis, Art Critic and Exhibition Curator (BE)
Laureates of the edition 2007/2008