Presentation
The Jury 2017/2018
Christian Marclay (centre) presided over the Jury of the Grand Prix Images Vevey and the Images Vevey Book Award, featuring:
Darius Himes, International Head of Photographs, Christie's, New York
Lars Boering, Managing Director, World Press Photo Amsterdam
Simon Baker, Senior Curator, International Art (Photography), Tate London
Luce Lebart, Director of the Canadian Photography Institute of the National Gallery of Canada, Ottawa.
This jury of image professionals gathered in Vevey from 28 to 30 April 2017 to examine the more than 600 files of the candidates shortlisted after their online application.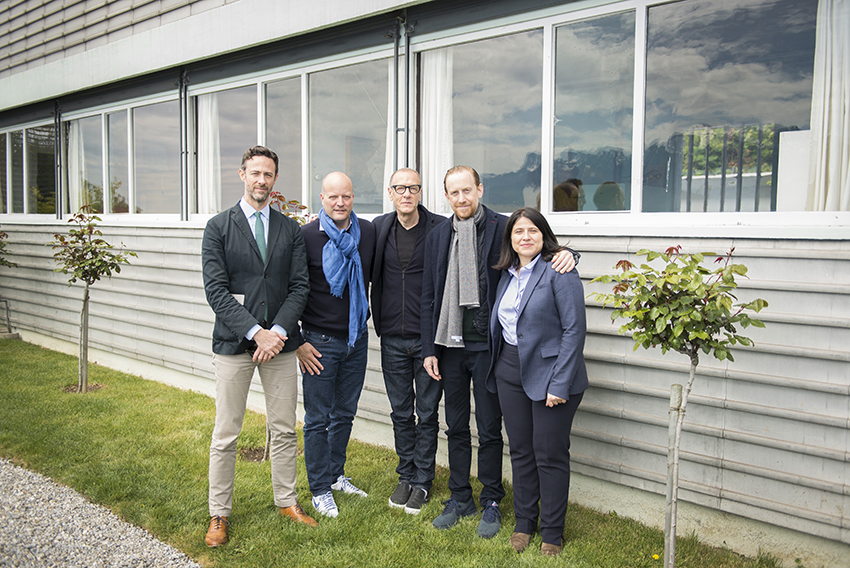 President : Christian Marclay
Artist
For more than thirty years, Christian Marclay has been exploring the connections between the visual and the audible, creating works in a wide range of media, including sculpture, video, photography, collage, music, and performance. Marclay's work has been shown in museums and galleries worldwide. International solo exhibitions include the Staatsgalerie in Stuttgart (2015); Musée d'art moderne et contemporain in Geneva (2008); Hammer Museum at UCLA, Los Angeles (2003); San Francisco Museum of Modern Art (2002); Museum of Contemporary Art, Chicago (2001); Kunsthaus Zürich (1997).
In 2011, Marclay received the Golden Lion award for best artist at the 54th Venice Biennale for his twenty-four hour virtuosic video The Clock. First premiering in London in 2010, The Clock has since been exhibited worldwide in more than twenty venues including the Centre Pompidou, Paris (2011); Museum of Modern Art, New York (2012); and Guggenheim Bilbao (2014).
The photographic medium holds a singular and consistent place within Marclay's practice, going from camera-less photograms, cyanotypes and, most recently, to animations made from digital snapshots of street detritus which were also shown as part of the Rencontres d'Arles in 2016. In 2012, the Festival Images Vevey presented three projects by Marclay : Crossfire, a video exhibited in Shoot – la photographie existentielle; Street Music, a poster installation; and Shuffle, an images based muscial performance.
Darius Himes
International Head of Photographs
Christie's, New York
Based in New York City, Darius Himes oversees a global team producing auctions, exhibitions and catalogues as International Head of the Photographs department at Christie's. Prior to joining Christie's in Fall 2014, Himes was director of Fraenkel Gallery, San Francisco from 2011–2014. In 2007 he co-founded Radius Books, a non-profit publisher of books on photography and the visual arts. While working with artists such as John McCracken and Lee Friedlander, he is most proud of publishing first monographs for over a dozen emerging artists. He was the founding editor of photo-eye Booklist, a quarterly journal devoted to photography books, which ran from 2002–2007. A lecturer and writer, he has contributed to Aperture, Blind Spot, Bookforum, and BOMB. His most recent book, Publish Your Photography Book, co-authored with Mary Virginia Swanson, was released by Princeton Architectural Press in the Spring of 2011, with an updated 2nd edition published in the Spring of 2014. Himes completed his Master of Arts in Liberal Arts at St. John's College in 2000, and received a BFA in Photography from Arizona State University, having studied under William Jenkins and Bill Jay.
Lars Boering
Managing Director
World Press Photo, Amsterdam
Lars Boering was born 1969 in Amsterdam, the Netherlands. He studied Communication Science at the University of Amsterdam. From 1998 he was curator and later managing director of the Amsterdam Art Foundation, buying photography for their large collection. In 2008 Boering became an independent advisor and entrepreneur in photography and founded Lux Photo Gallery. He has advised photographers about funding and business opportunities, and has worked with several partners in the publishing and advertising businesses. As managing director of the Dutch Photographers' association (FotografenFederatie) from 2010 to 2014, Boering advised photographers on copyright issues and entrepreneurial skills. He was appointed managing director of World Press Photo from January 2015. He has taught at master classes and academies, and has been involved as curator for festivals, museums, publishing houses and other institutions, producing artwork and exhibitions for them. In 2010 Boering co-founded the 'advanced story telling' master class at Noorderlicht.com where he still teaches. Lars Boering lives in Amsterdam with his wife, two sons and a daughter.
Simon Baker
Senior Curator, International Art (Photography),
Tate, London
Simon Baker (b.1972 , UK) is Senior Curator of International Art (Photography) Tate. He is Tate's first curator of photography and joined in 2009 from the University of Nottingham, where he was Associate-Professor of Art History. Since joining Tate he has curated or co-curated the following exhibitions: Exposed: Voyeurism, Surveillance and the Camera (2010); Taryn Simon: A Living Man Declared Dead and Other Chapters (2011); William Klein + Daido Moriyama (2012); Another London (2012); Conflict, Time, Photography (2014); Nick Waplington, Alexander McQueen: Working Process, (2015) and Performing for the Camera (2016). He recently published the first monograph on the American painter George Condo (Thames & Hudson, 2015).
Luce Lebart
Director, Canadian Photography Institute
National Gallery of Canada, Ottawa
Since fall 2016, Luce Lebart has served as director of the Canadian Photography Institute of the National Gallery of Canada in Ottawa. From 2011 to 2016, Lebart was director of collections and curator at the Société Française de Photographie, the oldest photographic society in France, founded in Paris in 1854. She is the author of several books, including Mold is Beautiful, Lady Liberty, and Les Silences d'Atget (Atget's Silences), as well as a number of articles in fields such as météorological and forensic photography and the history of archiving. As a curator, Lebart has organized and co-organised the following exhibitions: La Guerre des Gosses  Rencontres d'Arles, 2014 ; Souvenirs du Sphinx, 2015 ; Stains and Traces, First photosensitive tests by Hippolyte Bayard, 2015; Illuminations, 2015; Images à Charge (Burden of Proof) andLady Liberty in 2016.